Breakthrough Blogging is The Complete Guide to Starting Your Blog and Attracting Your Tribe of Loyal Followers… Even if You Know NOTHING About Blogging!
In this in-depth course, you'll learn absolutely ALL of the skills you need to set up your blog, flesh it out with your engaging, unique content, and get your posts in front of the very people who need to hear from you the most!
You'll start from the very beginning, so even if you don't know a keyword from a hashtag, don't worry. This step-by-step approach gives you everything you need to build your blog fast!

But this is more than just a "how to blog" course. You're also joining a community of like-minded people who want to help you grow and succeed as a blogger. You'll never have to look far for encouragement and accountability, because you'll have it all at your fingertips, 24 hours a day!

---
Here's Exactly What You're Getting When You Enroll in the Breakthrough Blogging Course Today…
You're getting six insight-packed training modules that cover everything from getting started, to crafting blog posts that your audience will read, love, and share, to maintaining your blog after the launch.
Here's a sneak peek, just for you: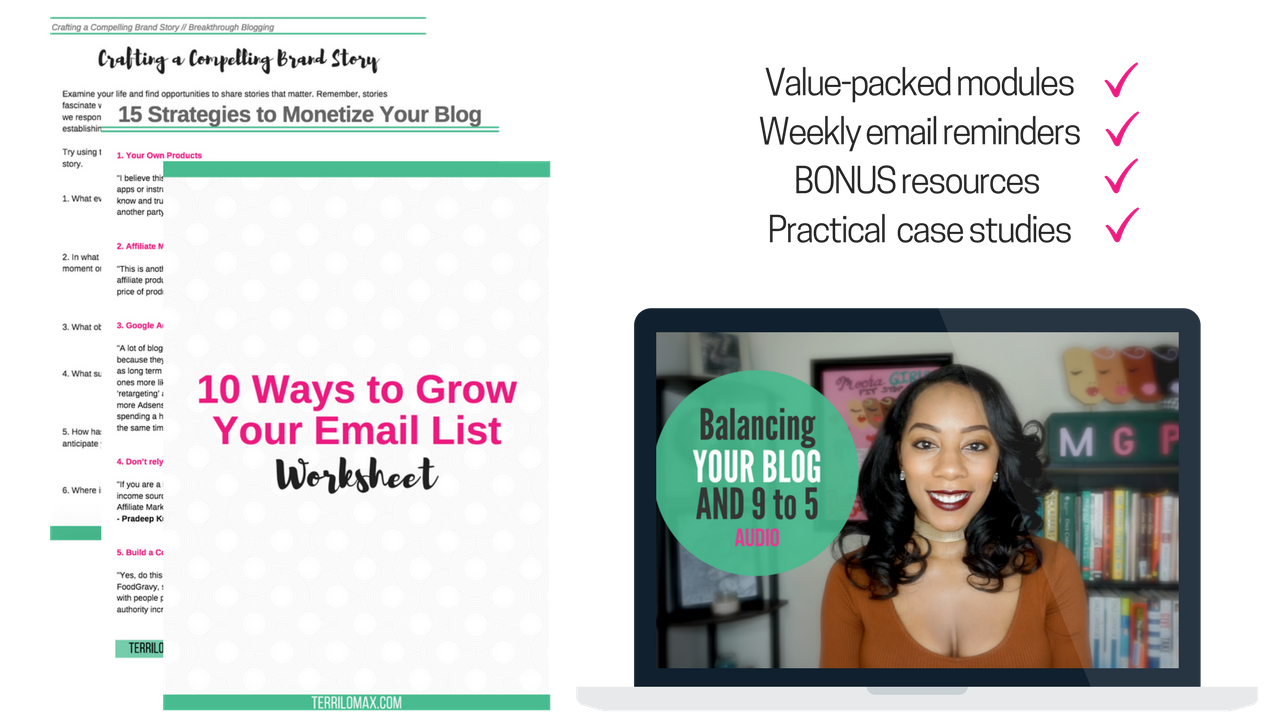 1. Module 1: How to Lay the Foundation for a Successful Blog- In this training module, you'll learn what a blog is (and isn't), which type of blog is best for your goals, the five easy steps to discovering your ideal niche and you'll lock down your blog's purpose (this will help keep your enthusiasm high)!
2. Module 2: Essential Ingredients for Branding Your Blog- In this session, you'll learn how to create a "sticky" brand that makes people remember you (and tell their friends about your blog), write content that keeps followers coming back, get the 7 critical steps to a memorable blog post, find your unique blogging voice, and more game-changing strategies to help you break through the cluttered blogosphere.
3. Module 3: Effective Strategies to Increase Blog Traffic and Grow Your Email List- Building an email list is one of the best things you can do to keep people coming back to your blog. In this module, we're going to cover simple strategies to help you leverage social media to grow your blog, I'll reveal 4 reasons why your email list is more valuable than social media, and I'll empower you to start building an email list from scratch today! 

4. Module 4: Powering Your Blog Like a Boss: The Nitty Gritty Tech Stuff- Here, you'll learn all about the tech stuff like layouts, sidebars, themes… the "nuts and bolts" that serve as the foundation for your eye-catching, subscriber-attracting new blog. Don't worry, it's all laid out step by step so you'll never have to feel overwhelmed or rely on guesswork!

5. Module 5: The Recipe for a Successful Blog Launch- In this session we're going to cover, 4 tips for setting clear goals and objectives for your blogging journey, 9 ways to create hype around your blog launch and we'll close with an easy-to-use, pre-launch checklist, that'll equip you to launch your blog like a pro!
6. Module 6: Maintaining Your Blog and Keeping the Momentum- In this closing module you'll gain the tools, confidence, and game plan to maintain your blog once the honeymoon phase dies down and much more!

7. Of course, it would be impossible to answer every imaginable question in four training modules. So you'll also get a simple approach for finding the answer to anything that has you stumped… in a matter of seconds! You'll also get access to more than 45 minutes of Q & A sessions.
8. You'll have access to more than 15 downloadable worksheets and homework assignments to reinforce what was taught in each session. 

9. Last but not least, you'll get lifetime access to the private Breakthrough Blogging Facebook group, where you can connect with other bloggers to share tips, encouragement, and accountability. You might even find opportunities to partner with other bloggers on new, high-impact blogging projects!